You think you are Badass?!? Checkout this mama.
From: Lindsey – @confessionsofarunningmama
Run Project runner, Lindsay (on Instagram as @confessionsofarunningmama) is known for wearing either heels or running shoes everywhere she goes. So it is no surprise that she eventually challenged herself to a 5K in heels for no other reason than to see if it could be done. 
Lindsay began her running journey approximately 7 years ago as a way to get in shape without having to leave her daughter in childcare at the gym. Being able to run around her neighborhood was appealing to her as a new mom; however she soon fell in love with the sport. Shortly after, she found Run Project and has been hooked ever since.
"I love Run Project" she said. "They're a very interactive community, I follow them and they follow me on Instagram. I also follow a bunch of people that are all involved with Run Project, so it's become a little community and I adore it. Running is a solitary sport; you just go out by yourself, but there's this whole community of runners and it's the most fantastic thing."
In 2020, Lindsay challenged herself to run a half marathon every month, and she succeeded even though most of them had to be virtual due to COVID. "I decided, you know I've done that, let's see what else I can do, and since I'm either in heels or running shoes, I thought let's see if I can do a 5K and heels." On Saturday, March 13th, Lindsay completed this challenge by walking Run Project's St. Patrick's Day Dash in Fort Worth, finishing a bit slower than she anticipated but finishing none-the-less.
When she crossed the finish line, the heel on one of her shoes was crumbling and the backs of her heels were raw and bloody, but she reports that it was no big deal and that she didn't notice any pain until the shoes came off.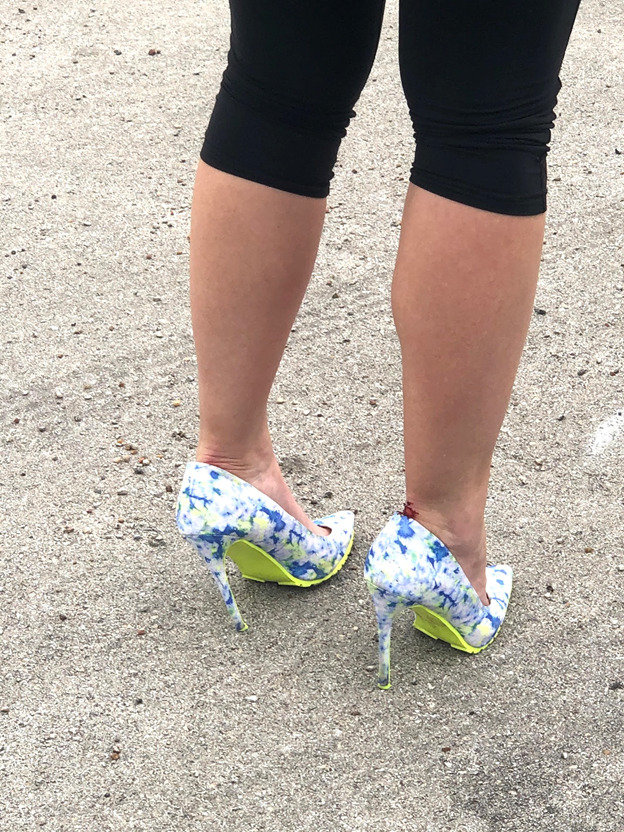 She has continued her 2020 half marathon every month streak into 2021 and is going strong with Run Project's Badass Texas on her list for May, and Too Hot To Handle, a race she has run and loved in the past, scheduled for July.
So what's next for Lindsay? When I asked if she would be competing in heels again she laughed. "Now I've done it and probably ruined that pair of shoes, so I probably won't do it again unless there's some like awesome reason to do it." She went on to note that someone mentioned to her 40 yard dashes done entirely in heels and she was intrigued. So we just might find her on the course in heels again some day.